I have been portraying people as chairs since 1989 – all in the same technique and with the same intention. The images are carried out with a spatula – red oil color on raw canvas, sized 180×140 or 180×120 cm. Each of the portraits captures someone who majorly influences my life and my artistic practice. Some of them are contemporaries, known or unknown to me, others people who I love, who I care for, who I adore, some of them have passed away centuries ago – they talk to me through their literature, their art, their spirit – they inspire me.
A good naturalistic portrait contains the character, the spirit of the portrayed person. I 'translate' people into chairs – I portray them as chairs. The portrait captures their character, their soul. Why would one want to have a person represented by a painted chair? Of all commodities we use, the chair resembles us the most – first of all in terms of anatomy as it is supposed to fit the shape of our body, their 'physiognomy' resembles people. We have a very intimate relationship with chairs as most of us spend more time on them than anywhere else. The chair can be used as a commodity, as a gadget of convenience, but it can also represent a human being e.g. in the apsis of churches we often find a chair, wooden or carved out of stone that is never being used – even during service it remains empty. It is reserved for the bishop and therefor it represents the dignity. Although the clergyman was/is never present nobody is allowed to use it. It is reserved for him only as it represents and substitutes him and his status. Chairs could and can refer to the social status of the user – the higher ranked a person was/is, the more comfortable the chair had/has to be.
Though I work in many different mediums 'painting' is chosen in this context for a reason. Since the canvas is not being treated with gesso, stains occur on the surface of the raw linen. Often the very thick layer of red oil paint extracts linseed oil that soaks the canvas around the image and stains it dark. The chair develops a shadow that appears as if it was surrounded by an aura, a process I cannot influence. Some chairs/humans have more of an aura, some less, some don't seem to have any. All chairs appear awkwardly flat since there in no central perspective applied to the paintings. Most of them have only two legs instead of four, some are wrecks others have missing parts, they all have handicaps. None of them is perfect.
On first glimpse a red-chair-image I chose to represent a person might appear random. Why for example would Jean Luc-Godard have the shape of the chair I 'selected' or made him to be? Why do I turn someone into an existing chair or a made up chair, or an abstraction, for whom do I invent a chair that does not exist? If one were to flip through some of the chair-portraits and found a person he/she personally knows and on top of it another chair-portrait of a 'celebrity', then one could already get an idea of how I translate the persona into a chair. I think of people I am fully in tune with, I feel, I read them and a chair appears in my imagination that is them. Yet e.g. the artist Yoko Ono turned into a sofa that appears like half a grapefruit, Apichatpong Weerasethakul turned into a bunch of feathers floating in the wind – once in a while I don't succeed in transmuting a personality into a chair. So far about 120 people have been portrayed.
In a photo Series entitled 97-(13+1) which was featured at documenta X, Kassel 1997, I refer to the concept above as I link the characters of Japanese individuals to old rotten chairs found in the streets of NYC. Then I let the person pose with the chair I have selected for him or her for a staged photography.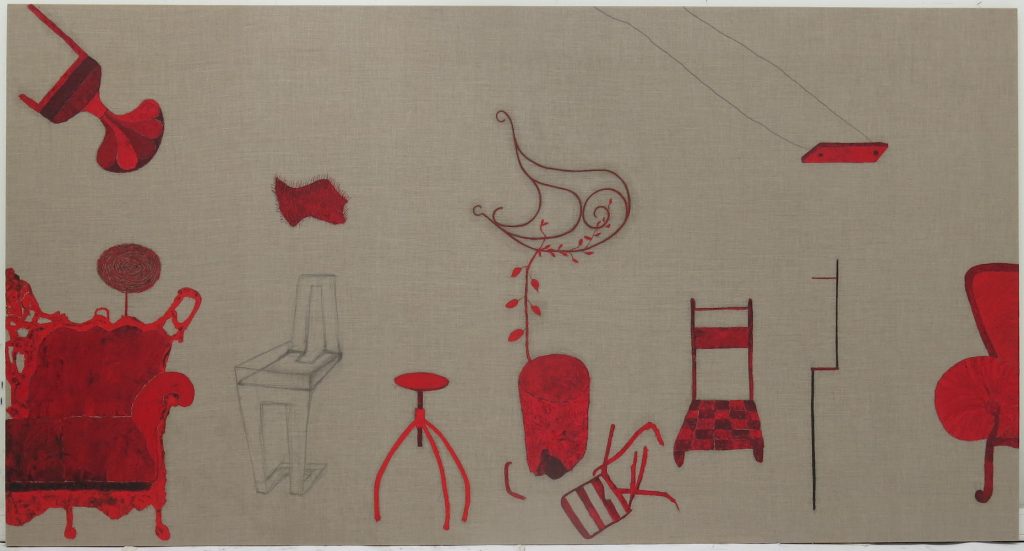 PORTRAITS 1989-2023 (180x140cm or 180x120cm)