AICHI / VIENNA 2005 – intervention/performance/short film – in collaboration with Willi Mahringer
Forget about Dadaism. Believe in Gagaism! … CHICKENSSUIT® was a slick campaign produced for the World Expo in Nagoya. We deliberately made use of current marketing jargon and tried to convert it into Japanese, where the idioms are very different. CHICKENSSUIT® reflects on the condition of the industrialized world. CHICKENSSUIT® [worldwide patented clothing for chickens] is a product that no one needs, but we proved that an exceptional image can create the need for anything. This explains the success of and the boundless interest in the media worldwide [driven by Reuters and Assotiated Press 850 TV stations across the world showed excerpts from our CHICKENSSUIT® catwalk show]. It was never about dressing chickens really, what was important was the image we created.
This project has its own elaborated website. Please visit www.chickenssuit.com for detailed information.
We are all conditioned to perceive weird pictures and extremes that make no sense, that distract from normal, everyday life. It is naïve to think that one can purchase systemic criticism via art. Things that can be bought can't be systemic criticism anymore.
REUTERS TOKYO REPORT
"A gadget that no one needs but everyone wants to have", the chickenssuit.com website promises no more and no less than a "piece of freedom". chickensSuit® will outfit the old, familiar house chicken, and future clothes will naturally be offered as flags of various countries including knitted, camouflage, swim suit and hair fur. Part of the campaign that had it's kick off at the WORLD EXPO in aichi, japan with a chickenssuit catwalk on conveyer belts, is the film ERNI. Chicken ERNI wears different suits at particularly impressive viennese sights including the Gloriette and the Golden Hall of the MUSIKVEREIN in Vienna. In this venue, representing hardcore conservativism Honetschläger puts ERNI on stage in a Japanese chickenssuit, while the VIENNA CHOIR BOYS are twittering a Turkish folk song (the artists hint against Europe's denial to integrate turkey into the EU). With chickenssuit®, edgar honetschläger exposes the alleged "world community" as a tough world market, in which only those succeed who consume.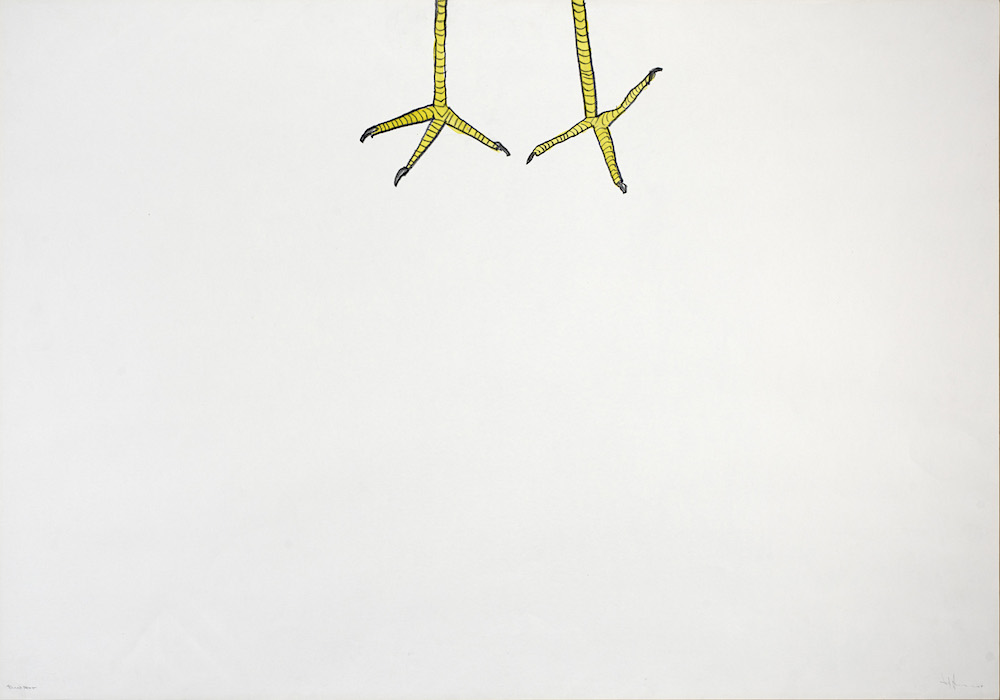 THE FILM ERNI with the Vienna CHOIR BOYS and the lovely dressed chicken ERNI is available at eh@akis.at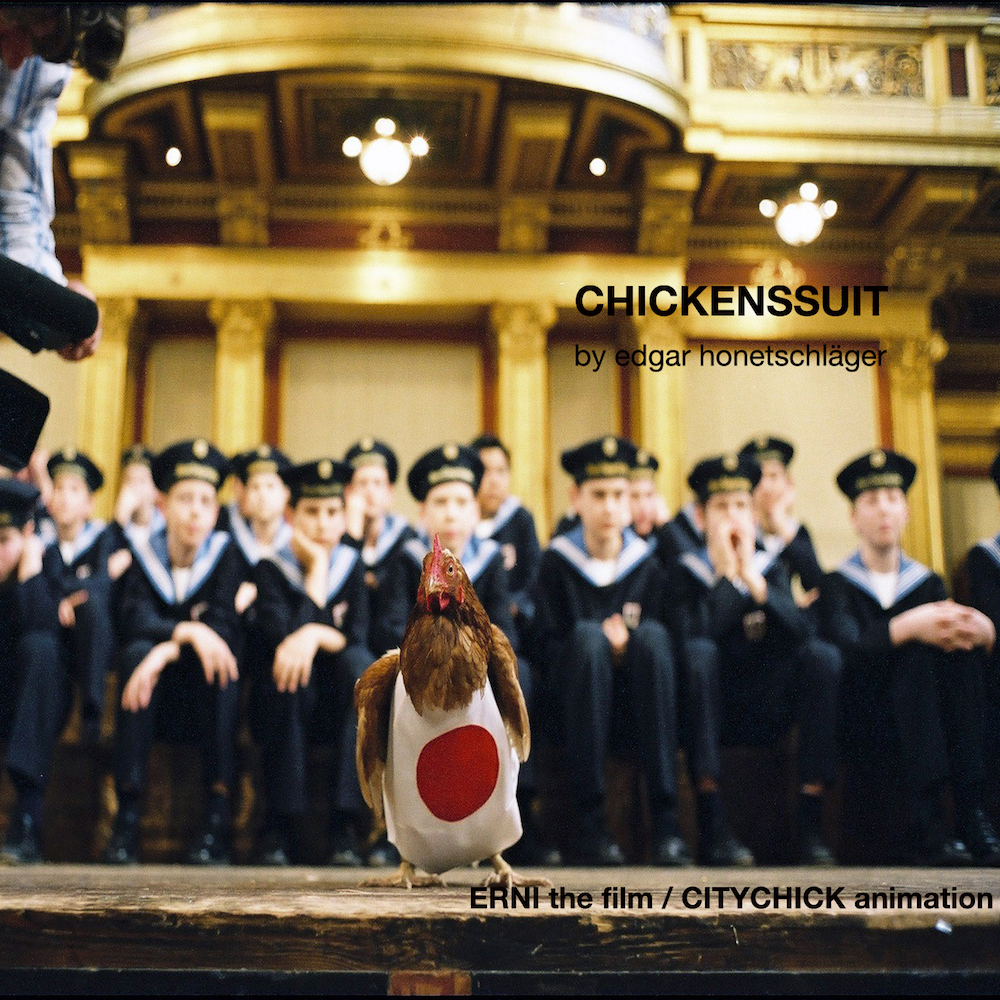 7 min, Vienna 2005
actors: Yukika Kudo, Keiko Kudo, Kazuto Taguchi, ERNI the chicken, Vienna Choir Boys
editor: Petra Zöpnek
line producer Diego Donnhofer
producer Com Institute Tokyo / mokka vienna / Edoko Institute Vienna
co-production with Willi Mahringer
producer/director: Edgar Honetschläger
premiere at World Expo Japan / Locarno Film Festival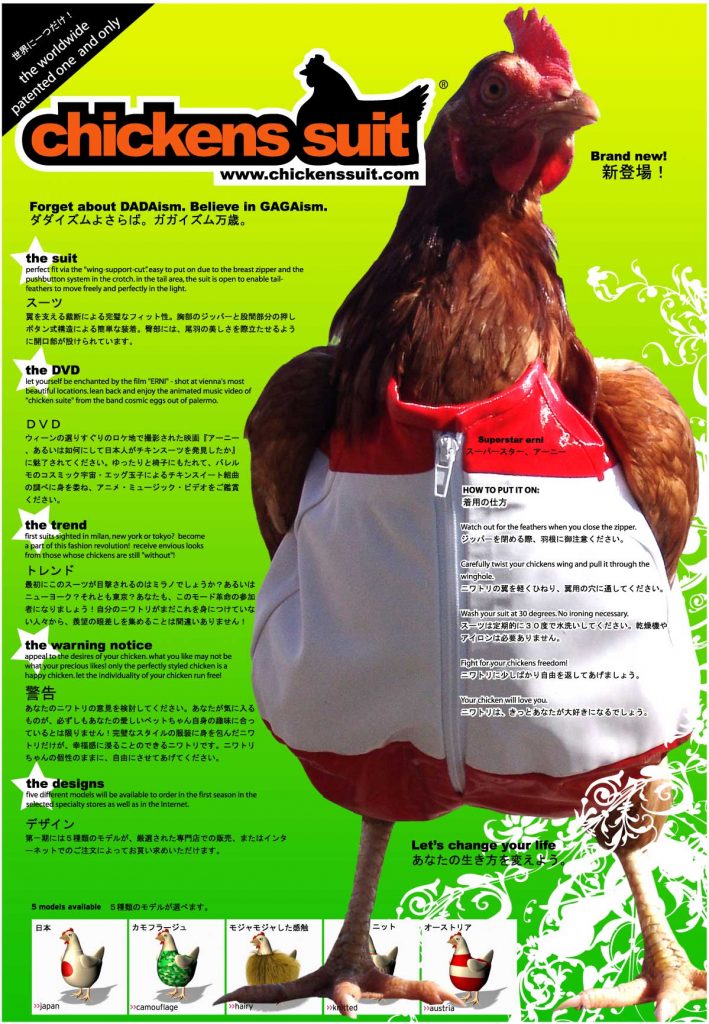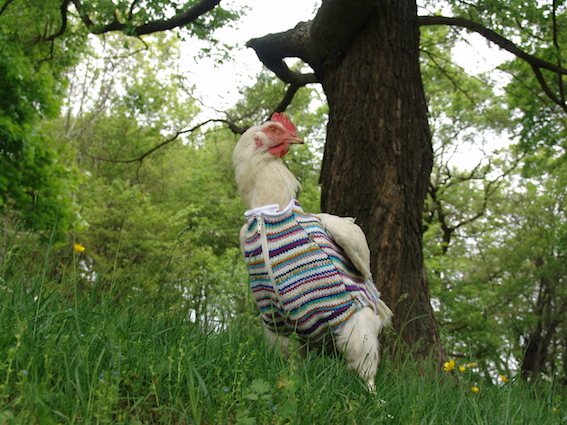 press/review
click following link for press
http://www.chickenssuit.com/english/press/
additional press