performance/short film/double feature film, Los Angeles, Tokyo, Montevideo, Buenos Aires, Brasília, Vienna 2006
THE AUDIENCE is one out of six movements of an opera by the composer Peter Ablinger and the writer Yoko Tawada who wrote the Libretto. Edgar Honetschläger did two films each 70min for it. They were presented as a double projection in a performance with two ensembles and two self playing pianos at the List Halle Graz at the Steirischer Herbst 2004.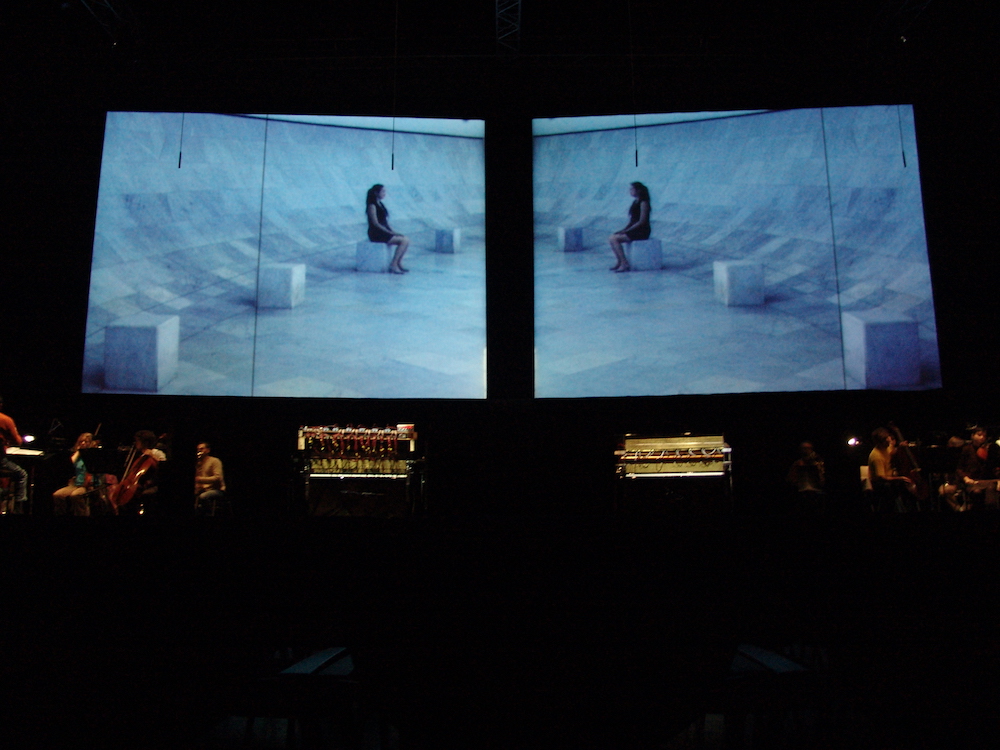 The first part of those two movies LAST LUNCH was filmed in at Museum Leopold in Vienna as part of a performance entitled: A DAY ON A FILM SET. Regular visitors of the museum, which features paintings by Klimt and Schiele, could watch Honetschläger and his cast perform the making of a film. Well known Austrian artists were featured.
THE AUDIENCE (german title: Immergrün und die Moderne) is a cinematic experiment about "the city". Los Angeles, Tokyo, Montevideo, Buenos Aires and Brasilia are represented by one single woman: the seduction. Aimlessly she wanders through cityscapes, most of them painted by the artist, frame by frame she dives through an analog world toward a digital surface.
7 min / 70minx2 double projection
starring Yukika Kudo, Ali Janka, Rüdiger Andorfer, Viktor Bucher, Christof Cargnelli, Paul Divjak, Thomas Draschan, Tomas Eller, Ernst J. Fuchs, Michael Kienzer, Kurt Kladler, Wilhelm Mahringer, Tom Meyer, Florian Reither
libretto Yoko Tawada
music Peter Ablinger
camera Martin Putz
editor Kurt Hennrich
line producer Karin Tonsern
paintings / set drawings / camera /producer/director Edgar Honetschläger
production companies Edoko Institute Vienna / Com Institute Tokyo
premiere at the Steirischer Herbst, Graz
realised with the help of the Ministry of culture Austria
Excerpt:
The genre of film picked up painting's yearning for central perspective and took it further. In Byzantine painting we meet with inverted perspective: What recedes toward a point in central perspective is turned around and brought forward. But our eyes have difficulties in seeing that, they don't understand it, because they have never learnt to see it. Digital pictures offer the chance of a comeback of the two- dimensional since they appear flat, bound to the surface. Sound in film is always subordinate to image. The composer Peter Ablinger and Edgar Honetschläger, referring to Eisler and Adorno, sought to create a work where the
two are on an equal footing. Sound does not knuckle under, but lives for itself.
The seduction, acted by Yukika Kudo, is the temptation of the city, as an individual she represents entity. The Japanese moderate their sense of the I depending on who is being addressed. The I is therefore defined through others. Society is the regulator, man is not obliged to an abstract god that makes it easy for the I to outdo the others, instead a grid of formalities enables the individual to find a maximum of freedom within the grid.
Tokyo—uncompromising concrete, no con- cessions to nature. Nature is what man creates. Everything that man makes is nature. Buenos Aires and Montevideo—replicas of Europe. The New World: hope of improvement by means of outworn/hierarchical ideas. Colonial Christian megalomania. Failed attempts at reinventing ourselves. Brasília—the hub of modernism.
Expression, impression, of the 20th century's unbridled belief in progress. With technology we stand defiant. Brasília is meant to be the proof that man, Christian man, has finally overcome nature. Los Angeles—the center of manipulation. What we are to think, the images that constitute us, that we are, are created here. Endless summer, eternal blue sky—nothing changes except the individual—
it ages. The invention of eternal life—a Christian thought. No more need to wait for the beyond. Eternity is now.
press/review
A selection of paintings 140×180 cm (55×70 in) i did for the film THE AUDIENCE. They were used used as backgrounds for the making of the movie
press/review